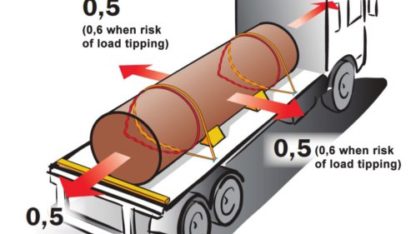 Placing plywood sheets on top of the containers would solve the problem, but it is rather difficult to do and requires personal safety gear as you need to climb on to the cargo space. Finnish company NWE suggests using a fabric to cover and tighten the load.
NWE's Fix Road is a woven polypropylene sheet of fabric with sewn connection points for tensioning. It covers the entire load and divides the tension caused by tensioning devices evenly. Then the surface pressure is a fraction of what it would be with chains or straps, but the overall surface pressure can even be higher without damaging the load. The fabric also forms itself around the shape of the cargo and keeps every single item on the place. This is particularly beneficial for securing round objects, paper coils, barrels and kegs.
FIX Road is tested by Dekra and TÜV in Germany and approved to be used as load securing in road traffic and sea freight. Breaking strength is 50kN and lashing capacity is 2500daN for every lashing point. In a normal trailer there are 12-15 lashing points per side. With 12 points per side FIX Road can secure higher weights than a trailer of the same length can carry.