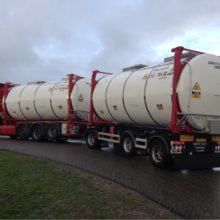 Using patented manufacturing processes, the stainless steel vessel has been replaced with a one-piece filament-wound fibre reinforced vessel.
The product has been under development for a number of years, with the company fine tuning the choice of materials and methods of manufacture. In January 2015, the prototype passed all statutory tests to obtain ADR/RID approval and offers test pressures up to 4 bar.
The key advantages of the concept are a weight reduction of over 40 percent and greatly improved thermal performance when compared to the equivalent stainless steel type. The tare weight allows the payload of a 31,000 litre unit to increase to over 36,000kg, where permitted.
Launching customers are putting the first production units through their paces after close consultation with their clients to establish a consensus on the use of the new product.