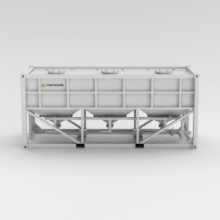 Few details have yet been released, but CSS Alliance, a management services firm specialising in manufacturing, works closely with Intermobile, a container designer based in Las Vegas, Nevada, USA.
Intermobile has already designed a bulk product container with top-load gravity feed for loading, and integral hoppers and pneumatic outlet for discharge. The design fits in a 20ft ISO frame with corner castings, effectively turning into an intermodal unit. Intermobile's website explains that the system reduces supply chain costs by eliminating the need for costly rail or road hoppers, as well as large-scale transloading infrastructure.
According to the designer, it has a wide range of applications, from energy use – for example, transporting frac sand or fly ash – to agriculture, where it can be used to move fertiliser, flour, soy, corn and grains.
A press release from CSS Alliance said the two firms had "identified a new design called an HQ container. This container is bigger and meets the needs for companies that need to transport more product."
The statement confirmed the new design has standard high cube (hence 'HQ') dimensions: 20ft long x 9.6ft high x 8ft wide. The capacity of the HQ is 20.5 cbm, against 15.5 cbm in the standard 8.6ft version. This equates to a payload up to 34 tonnes against 25 tonnes.
The projected forecast for the larger devices is to produce over 50,000 units "as quickly as possible", outsourcing production to US and international manufacturers.