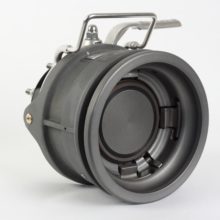 The UK-based company says the Safeload was the first, and remains the only, coupler on the market with extended 'wrap around' latches that follow the profile of the API adaptor, covering over 50 percent of the circumference. This feature ensures maximum safety and security of connection, drastically reducing any risk of product leakage. Compared with conventional narrow triggers, the increased surface area contact significantly reduces wear to both the latches and the adaptor, which prolongs the serviceable life of both units.
To withstand the high-pressure application, the existing model has been extensively re-engineered. The spindle, crank and poppet have been redesigned and now offer greater inherent strength and reduced turbulence, which enhances flow characteristics. In addition, the new coupler has a smaller 'active pressure area' and a dual seal system, which reduces the effect of product displacement, making it easier to close the coupler against a retained line pressure.
The coupler also incorporates a new safety feature, the interlock latch, which is designed to eliminate accidental actuation of the coupler in case of lateral impact, thereby preventing the risk of product spillage. The interlock latch will be a key element of all the current range of semi-automatic and manual couplers by 2016.