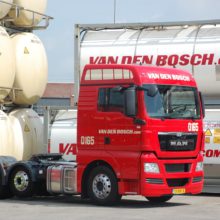 Starting this September, the logistics services provider is opening a new branch in Dubai and early next year Van den Bosch will start a tank cleaning service in Ghana.
The company is also adding five hundred 20ft ISO-tank containers to its fleet.
"The expansions are the result of a growing demand for deep sea transport activities", CEO Peter van den Bosch said. "We are finding that more and more European companies are focusing on growth markets such as Africa and the Middle East. That has made the demand for deep sea bulk transport rise rapidly."
The bulk transporter is looking to grow in an African market that it believes has the potential to develop rapidly. In early 2016, it will expand its African activities with a tank cleaning station in Tema, Ghana. The company attributes the need for this to the fact that they have convinced customers to ship liquids in ISO tanks instead of in small quantities. A tank cleaning station will help persuade local companies to switch to bulk transport.
Van den Bosch is also looking to expand in the Middle East. Starting this September, the bulk transport company is opening a new branch in Dubai. Because of the city's location at the crossroads of three continents, the company argues it will help to develop its global activities in Europe, the Middle East and Africa.