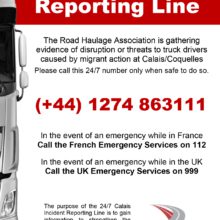 Thousands of wallet-sized cards have been printed with the reporting line number (+44 1274 863111), together with the telephone numbers for the emergency services in France and the UK. The Port of Dover is supporting the initiative and the cards will be issued to drivers by ferry operators P&O and DFDS. The RHA hopes that other cross-Channel operators will also participate.
The reporting line will give hauliers and drivers the opportunity to call in and officially log incidents of intimidation or incursion by migrants. Callers will be asked for their name, the nature of the incident, the exact location where the incident occurred and whether there was damage to their load or vehicle. The information gathered will be passed to the UK Home Office and Border Force teams.
The RHA's International department, which provides advice and frequent updates of value to hauliers travelling abroad, is already receiving worrying feedback as to the extent of the problems. The 24/7 telephone line will supplement that information and the service will be available to all drivers, regardless of nationality.
RHA chief executive Richard Burnett commented: "We are very concerned about the amount and scale of the reports we are receiving. They include instances of hauliers being threatened with baseball bats, while others have been subject to migrants throwing bricks off motorway bridges. We have also had several eyewitness accounts of migrants deliberately putting obstacles in the road with the sole aim of slowing vehicles down to make them more 'accessible'.
"This is a situation that is both out of control and totally unacceptable for those who are, quite simply, doing their job. The reporting line will provide the evidence and understanding needed to ensure we get the protection that the haulage industry is entitled to expect."