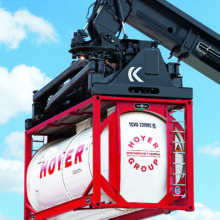 Called Netlog, the unit will manage the groupwide equipment pool to achieve further efficiencies. Netlog will co-ordinate this activity and provide the other business units with the ideal equipment, enabling the latter to focus entirely on their respective transport business. Pooling volumes offers decisive benefits, Hoyer reckons, especially when buying equipment and reducing vacancy rates.
In future, Netlog will also push forward the renting of tank containers and IBCs.
"The system with our business units has proved its worth in the past," said Ortwin Nast, CEO at Hoyer. "Because equipment is one of our most important assets, we have taken a strategic decision to set up a new business unit for it. This will enable us to develop our processes further and to push forward innovations."
In July Hoyer brought in Heiko Rumfeld to oversee this task, initially in charge of project management before taking up the position of director business unit Netlog on 1 January 2016.
A graduate engineer, Rumfeld was previously managing director of the Duisport agency, where his main responsibility was to expand the port in the container traffic area. He also previously worked at deepsea liner company Hapag Lloyd, where among other things he was senior director responsible for European region sales and customer service.