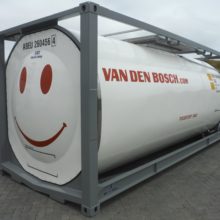 The new tanks will be used for the transport of liquid bulk products between Europe, Africa and the Middle East. Since September 2015 these activities have been co-ordinated by the new van den Bosch office in Dubai.
In recent years the company's container fleet has grown considerably as a result of growing demand for intermodal transport. In the meantime the logistics service provider has over 4,000 bulk containers for transporting of liquid and dry bulk products.
The new tanks have a capacity of 26,000 litres, chosen for to offer increased payloads. They also incorporate heating pipes which make it possible to heat the product if and when required.
Welfit Oddy, of South Africa, is building the tanks.