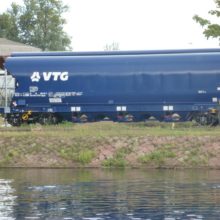 "The very positive third quarter result serves as ongoing confirmation that we are on the right path. We are delighted that the integration of AAE in the Railcar Division is proceeding according to schedule and are encouraged by the clear upward tendency in the logistics divisions," said Dr Heiko Fischer, CEO.
At €403 million, revenue for the railcar division increased by 54.8 percent in the first nine months. EBITDA improved by 80.8 percent in relation to the same period to €253.8 million. The EBITDA margin related to revenue was 63 percent, following on from 53.9 percent in the previous year.
Increased overseas transport and a stronger US dollar led to a 10.5 percent increase in revenue, to €124.6 million, in the tank container logistics division. EBITDA improved by 11.3 percent to €10.1 million. As in 2014, this includes one-off gains which have had a positive influence on revenue. The EBITDA margins related to gross profit dropped to 46.8 percent due to increased transport costs (previous year: 47.8 percent).
With revenue of €236.5 million, rail logistics more or less stayed at the same level as last year (€237.5 million). Driven by the restructuring measures implemented in the division, EBITDA rose by €1.7 million to €2.3 million, which represented an over proportionate increase (previous year: €0.6 million). The EBITDA margin related to gross profit was 11.2 percent (previous year: 2.8 percent).