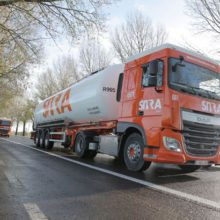 The acquisition is said to fit the strategies of both companies. Sitra-Group focuses on transport of foodstuff while Den Hartogh Logistics is strengthening its European road and intermodal network.
"With Den Hartogh we've found a stable and warm nest for our employees and customers," said David Saelens, CEO of Sitra Group. "As we are both family-owned companies we have similar cultures and a similar way of doing business. Long term strategies and people-oriented cultures are important values in both companies. With this divestment in bulk liquid chemicals we can now focus on the further development of our specialisation in the transport of foodstuff by offering road as well as multimodal solutions."
Pieter den Hartogh, group managing director, of Den Hartogh Logistics, added: "We always look for opportunities to strengthen our network and this acquisition also helps us to enhance our relationship with customers that were serviced by both our companies." Recently, which is based in Ypres, Belgium, added a forwarding division taking care of global goods shipments.