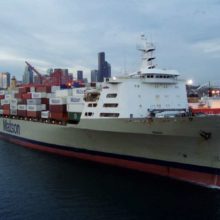 On Friday night, 12 containers were washed overboard from the motor vessel Manoa, owned by US-based shipping company Matson Navigation Co, in very difficult conditions. They were empty except for some packing material and contained no hazardous materials, but the US Coast Guard has put out a Safety Marine Information Broadcast urging mariners to exercise caution.
One container has so far come ashore, and the Coast Guard and National Oceanic and Atmospheric Administration are working with the State of California and City of San Francisco to ensure located containers are quickly and safely removed from the marine environment. Agencies continue to search for the remaining containers.
The incident occurred as many coastal and inland ports were closed in the neighbouring state of Oregon to the north. In addition to heavy seas, prolonged severe rain raised waters to flood levels in some areas, washing debris into water on port approaches.
The high debris volumes constituted a heightened risk to shipping, considered sufficiently hazardous for the US Coast Guard to close all fishing ports on the coast of Oregon and shut the Columbia River Bar at Astoria. The river provides access to the container and bulk terminals at the Port of Portland.
Several fishing ports on the coast of Washington were also closed.
The approaches to the major container terminals at Seattle and Tacoma have not been listed among affected areas.