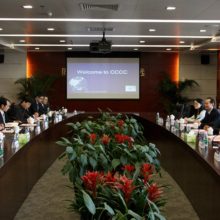 HPDP was established specifically to develop and market Sydney's new deep water container port and adjacent logistics park, able to accommodate the latest generation of ultra-large container vessels, and is responsible for assembling a consortium of marine and financial service partners to this end. HPDP is in discussion with port operators, investment houses, banks, developers, port technology providers, marine engineering specialists and shipping lines in Asia, Europe, North America and the Middle East, and this latest agreement is a significant move forward.
CCCC plans to undertake the design and construction of Sydney's container terminal with all necessary infrastructure, as well as providing container cranes, gantries and other port related equipment, including any required design and engineering.
At the same time, CCCC will undertake a feasibility study on the development of the overall container terminal, and engage in discussions with HPDP involving potential equity participation. CCCC and HPDP also agreed to work together on related infrastructure projects that may arise in the course of this project. CCCC, which had over US$70 billion in annual turnover in 2014, is also the world's largest container crane manufacturer.
Albert Barbusci, CEO at HPDP, said: "We are proud to have CCCC as a partner in this project. They share our vision regarding the unique opportunity to design and build a next generation highly automated facility which will serve the ultra large container vessels for decades to come. We welcome a Chinese consortium joining our Canadian team and look forward to working with CCCC in building out our super-hub in Sydney."
Chang Yunbo, Vice President of CCCC (International), stated: "Given its strategic location CCCC views Sydney's deep water harbour as a potential game changer for the North American eastern seaboard. As a partner, CCCC brings global experience, state of the art technology and financial strength to this project. We expect to have our first working visit to Sydney early in the New Year."