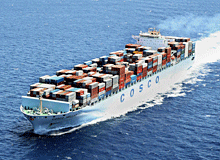 Cosco and China Shipping have reached an agreement and gained approval from the country's State Cabinet, following prolonged negotiations and years of speculation that the government would ultimately combine the two groups for a greater competitive edge in a difficult market.
The initial understanding of the restructuring is that Cosco will operate the container fleet, receiving 33 units and affiliates worth in excess of US$175 million from China Shipping, leasing its container ships, and creating the world's fourth largest container-shipping line.
State-backed China Shipping is expected to buy Cosco Group's dry-bulk shipping businesses in their entirety for more than US$1 billion.
China Shipping Development will take control of the tanker fleet operations of both companies, purchasing Cosco's oil shipping business. China Shipping Container Lines also plans to buy the container leasing enterprise, Florens Container Holdings Ltd, from Cosco Pacific, Cosco's port-operating arm, and will focus on leasing containers and ships, as well as becoming a specialist financial-services provider.
Meanwhile, Cosco will buy China Shipping's port-operating business and take on terminals management, immediately establishing itself as the world's second largest terminal operator by cargo turnover.
The complicated nature of the many deals involved mean that a final agreement on all aspects in not expected until 2017, but the merger will remove competition between the two in an industry suffering from over-capacity, and present a more efficient player on the world stage.