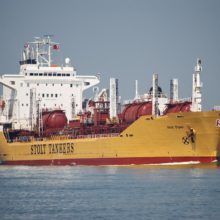 The addition brings the number of Board members to six, four of them independent.
Habben Jansen has served as CEO of Hapag-Lloyd AG, one of the world's largest container shipping companies, since July 2014, having been appointed a member of the Hapag-Lloyd AG Executive Board in April 2014. He was previously CEO of Damco, the global logistics firm, since 2009. Before that he was Head of Global Customer Solutions at DHL since 2006. He began his career at Royal Nedlloyd, the former Dutch shipping company, before joining Danzas, the Swiss logistics firm, which merged with DHL in 1999. A Dutch citizen, Habben Jansen graduated in Economics from the Erasmus University, Rotterdam, in 1991.
"With his extensive industry and business experience, Mr. Habben Jansen is a valued addition to the Board of Directors of Stolt-Nielsen Limited," said Chairman Christer Olsson.
Stolt-Nielsen Limited is listed on the Oslo Stock Exchange and, in addition to the Tankers, Terminal and Tank Containers operation – its three largest business divisions – also produces and markets fish and caviar through Stolt Sea Farm and develops opportunities in LPG and LNG shipping and distribution with Stolt-Nielsen Gas.