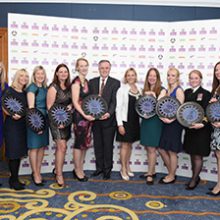 These prestigious awards, now in their ninth year and continually growing in size, were launched to recognise and celebrate the successes and achievements of some of the most inspirational women in the freight and logistics sector. The Freight Transport Association has been the title partner for three years and has worked with everywoman since 2008 on initiatives including the everywoman in Transport and Logistics Leadership Academy and the FTA everywoman Accelerate Programme.
David Wells, Chief Executive of the FTA, said: "Women are essential in every aspect of the UK logistics and supply chains – from driver and warehouse staff, to transport managers and managing directors. It is essential that the logistics industry is able to access a wide talent pool, to meet its need for good quality staff at every level. These awards are recognised as important within our industry; encouraging forward-thinking companies that are committed to introducing diversity to the logistics sector, and showcases how women can make a career in transport a successful and fulfilling one."
Maxine Benson MBE, co-founder of everywoman, commented: "The logistics industry is growing at a phenomenal rate, and needs more workers to be attracted to the fast-paced, diverse and exciting environment it offers. These awards are all about championing the women who are already succeeding, enjoying rapid career progression, job satisfaction and new challenges every day. These are the role models who can change the public image of the industry and in doing so ensure more smart, ambition women bring their talents to it."
The award categories are as follows:
Rising Star of the Year Award: Awarded to a woman under 30 who is excelling in her career.
Driver of the Year Award: Awarded to a woman who is excelling in her role as a driver including HGV, van, motorcycle or passenger transport.
The Warehousing Award: Awarded to a woman who is excelling in her role within a warehousing environment.
Innovation & Sustainability Award: Awarded to a woman who is implementing an innovative operational solution (technologies and processes) that is changing the industry in a positive way.
Team Leader of Year Award: Awarded to a woman who is leading a team in a way that contributes greatly to the company's success.
Leader of the Year Award (sponsored by Asda): Awarded to a woman operating in a senior role, contributing to the strategic direction of the business.
Industry Champion Award: Awarded to an individual, male or female, who is an active champion for the industry, playing a vital role in attracting and retaining women in transport and logistics.
Nominations are free, and will close on 1 February 2016. The winners will be unveiled at a ceremony at the Hilton Park Lane on 26 May 2016. Find out more and nominate at www.everywoman.com/award/2016-fta-everywoman-transport-logistics-awards