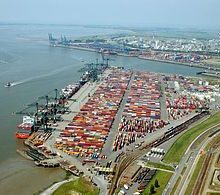 Antwerp expects to achieve total freight in excess of 200 million tonnes in 2015 for the first time. The container figures are particularly impressive; with anticipated growth of almost 8% the port will easily pass the milestone of nine million TEU (twenty-foot equivalent units, ie. standard containers) – another first.
This month Antwerp has also been celebrating the fifth anniversary of the Environment Ship Index (ESI), introduced at the port – along with Le Havre, Rotterdam, Amsterdam and Hamburg – in 2010.
This index, developed as part of the World Port Climate Initiative (WPCI), gives a score for ships that emit fewer pollutants than the legal minimum imposed by the IMO and EU. Individual ports can then grant a discount on dues for ships meeting the criteria. The decision to grant discounts in Antwerp was one of the measures in the port's action plan for particulates and NOx. In Antwerp a discount of 10% is accorded for all calls by ships with a score of 31 or more.
In 2012 there were 462 calls in Antwerp by ships that qualified for the discount. Two years later the number had risen to 501, and during the first nine months of 2015 the port had already granted discounts for 671 calls.