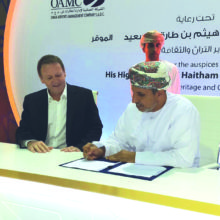 Eng. Abdulrahman Awad Abdullah Barham Ba Omar, board member of Salalah Mills Co, and Hermann Adrigan, sales director of Starlinger, signed the contract for machinery for producing hot-air-welded AD*STAR block bottom valve bags and sewn woven bags made of polypropylene tape fabric.
"Oman does not only have a lot to offer as a tourist destination, it is also an attractive economic location," said Adrigan. "We are delighted to work together with such a renowned business partner as Salalah Mills and will do everything we can to make this project a success."
With the investment, Salalah Mills is laying the foundations for its own packaging production plant. Currently, the flour producer buys the packaging for its products from internal and external suppliers. "We have great ambition to be the biggest packaging company in Oman and the area of the Gulf Cooperation Council," said Ahmed Alawi Al Dhahab, CEO of Salalah Mills.
The installation of the machinery is planned for mid-2016. The deal comprises the entire machine range for woven plastic packaging production: a tape extrusion line, winders, circular looms as well as lamination and conversion lines. The plant is scheduled to take up production towards the end of 2016. The company will also be the first producer of AD*STAR bags in Oman.