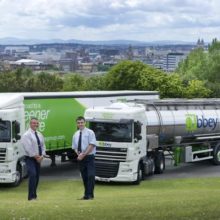 The funding package includes a confidential invoicing financing facility, a cash loan and asset finance credit line.
Since starting on its growth strategy in 2009, Abbey has expanded from £18m turnover to £45m according to its latest set of accounts to June 2015 due to be published next month, some £5m ahead of its forecast turnover. 2015 was a year of consolidation for the company, with a focus on lower margin business and streamlining overheads.
Steve Granite, Managing Director at Abbey, said: "Our business has grown 150% in five years, during which time we will have inevitably overlooked some lower margin business and over-compensated in staffing as we sought to keep pace with our expansion. It was typical growing pains for an organisation like ours. However, 2015 was a positive year for us, helped by a short self-imposed pause on our growth ambitions and a renewed focus on driving up margins.
"The business is in great shape financially following the consolidation period and we are now putting plans in place to grow the business towards our next goal, which is £70m turnover and £2.75m profit by June 2020. Now that we are performing to expected levels of return, focus is now on securing finance for growth and identifying potential acquisitions, possibly to include expansion into continental Europe or entering the UK chemical transportation market alongside organically growing our existing market share in bulk powder transportation and warehousing."
Abbey operates bulk liquid tankers, bulk powder silos, intermodal bulk, palletised freight and warehousing facilities throughout the UK and Europe, currently running a fleet of 275 vehicles and 430 trailers across its three divisions.
Granite added of the arrangement with HSBC: "We have been really impressed with HSBC's appetite to support our ambitions for the business which, along with competitive pricing, was pivotal in us agreeing to this package. Whilst HSBC's funding will play a significant part in fuelling our growth plans over the short to medium term, we continue to evaluate a range of other options which we are confident will help us to further develop our strategy for the business over the longer term whilst also meeting the personal ambitions of its founding shareholders."