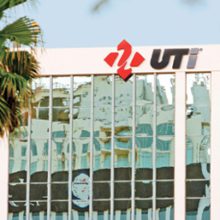 UTi is a global, supply chain services and logistics company with 21,000 employees in 58 countries. Acquisitions are an integral part of DSV's growth strategy, and DSV has a strong track record of successful integration of acquired companies. The acquisition of UTi is expected to increase DSV's annual revenue by approximately 50%, creating one of the world's strongest transport and logistics networks. The combined workforce grows to 44,000 people in 84 countries, 848 offices and 339 logistics facilities.
The Air & Sea Division is significantly strengthened, and DSV increases its industry specific capabilities across all divisions. Furthermore, the acquisition makes DSV truly global within contract logistics and marks the company's expansion into road freight activities outside Europe, enabling it to offer customers a broader range of services.
The combined companies have approximately 61% of revenue in Europe, Middle East and North Africa, 17% in Americas, 16% in Asia (APAC) and 6% in Sub-Saharan Africa.
DSV CEO Jens Bjørn Andersen said: "We are proud to welcome customers and employees of UTi to DSV. I have no doubt that the combination of the two companies is a recipe for success; and with our united network, we will create exciting opportunities for both customers and employees. We will now commence the integration process while taking care to maintain a high service level towards all customers. As we move forward, the commercial activities of DSV and UTi will continue under the DSV brand."
Kurt K. Larsen, Chairman of the Board of DSV, said of the agreement: "We complement each other perfectly, both in terms of business activities and geography. Together, we will be even stronger and able to capitalise on business synergies as well as a greater global reach to the benefit of shareholders, customers and employees."

Roger MacFarlane, Chairman of the Board of UTi, commented: "We are operating in an industry where increasingly scale is critical. Joining forces with DSV delivers substantially greater client value and many future opportunities for our people while it is financially very attractive for our shareholders."