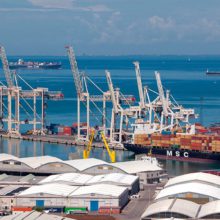 The agreement will provide a framework for knowledge sharing and cooperation on port operations and cargo handling issues.
"ICHCA is delighted to be working more closely with FEPORT," said David Bendall, Chairman of the global cargo handling NGO association. "Ports and terminals play a critical role as key nodes in international cargo handling chains and are already a focus within ICHCA. This agreement will help our two associations share knowledge and combine forces on matters of mutual interest at a European and global level."
FEPORT President Günther Bonz said: "We are very happy to be signing this MOU with ICHCA, which will enable us to connect our work at the European level with ICHCA's international efforts and initiatives. We are looking forward to cooperating with ICHCA on a number of issues that are relevant to both sides and to strengthening these links in the next few years."
The formal Memorandum of Understanding will be signed on March 1st 2016 at the ICHCA International Conference on 'Bigger Ships, Greater Challenges', which will run from 29th February to 2nd March at the World Trade Center, Barcelona, Spain. Günther Bonz will speak at the ICHCA Conference, where he will express the views of the European private port and terminal operator community on the challenges posed by bigger ships and other key operational issues for the sector.