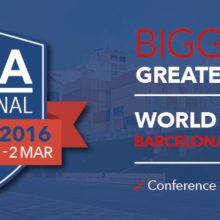 Entries for the inaugural award, sponsored by specialist insurance provider TT Club, are now open and will close on Friday 12th February. Presentations to the winner and a 'highly commended' entrant will be made by new IMO Secretary General Kitack Lim at a special reception during the ICHCA International Conference on 'Bigger Ships, Greater Challenges' in Barcelona on 1st March.
In declaring the opening of the award entry process, ICHCA International Chairman David Bendall said: "The world's supply chains are becoming ever-more complex and developing rapidly in new locations. The demands on our cargo handling infrastructure and operations are increasing and safety above all must not be compromised. We are keen therefore that participation in our initiative be industry wide. The award is open to all those – an individual, team or company – involved in cargo logistics."
Entrants must show that a product, idea, solution, process, scheme or other innovation has resulted in a demonstrable improvement to safety. Empirical evidence or corroborative support to establish enhanced safety in a defined situation or solution to an issue must be presented. The submission must be original and will be likely to have applications in wider industry circumstances, where appropriate.
Full details of the entry process and judging criteria can be found here.
Peregrine Storrs-Fox, Risk Management Director at TT Club, welcomed the opportunity to sponsor this unique award. He said: "TT Club has always emphasised the critical nature of loss prevention in its role as a primary supplier of liability and property insurance to the supply chain industry. As such, we are committed champions of safety awareness and applaud ICHCA's initiative to establish this award. We have worked closely with ICHCA for a number of years in producing safety advisory documents and urge sound practice wherever and whenever possible. We look forward to the wealth of safety innovation that will be encouraged by this award."