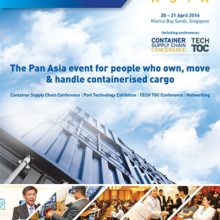 The event, taking place 20th-21st April at the Marina Bay Sands Hotel, Singapore, will address the key issues facing global container trade stakeholders, with specific reference to the dynamics of Asia's logistics landscape.
Uncertain prospects for container trade growth and the supply chain impact of mega container vessels will form a major part of the discussion. And a new focus area will decrypt the potential of 'big data' and the 'Internet of Things' on container supply chain operations.
Other heavyweight speakers now confirmed for TOC Asia include Soren Anderson, CEO, Rickmers Maritime, Rohan Nevrekar, Director of Procurement, Asia, CMA CGM, Tim Greisinger, Managing Director, Singapore,IBM, Alan Murphy, COO & Partner, SeaIntel Maritime Analysis, Rahul Kapoor, Director, Maritime Equity Research, Drewry, Dr Jonathan Beard, Vice President, Global Lead Ports & Logistics, ICF International, Richard Morgan, Chief Commercial Officer – Asia, Damco, Casper Ellerbaek, Vice President – Head of Trade Asia Pacific, Kuehne + Nagel, Tissa Wickramasinghe, General Manager – Commercial & Marketing, Colombo International Container Terminals Ltd, Rohan Masakorala, CEO, Shippers Academy Colombo, David Wignall, Senior Vice President, Indonesia Ports Corporation (IPC), Jason Chiang, Director,Royal HaskoningDHV Dr. Thomas Vitsounis, Leader – Ports, Shipping and Freight Supply Chains, NICTA (National ICT Australia), and Brendan McDonnell, General Manager, Technology & Engineering, Patrick Terminals & Logistics.
TOC Asia is comprised of two concurrent debating forums – the Container Supply Chain (CSC) Conference and the TECH TOC Conference – supported by a trade exhibition. The CSC element is an executive-level discussion forum focused on international trade, container shipping, port development and logistics, bringing together shippers, shipping lines, 3PLs, port authorities, terminal operators, government and other key supply chain members. TECH TOC is designed to engage operational executives in the practicalities of port and terminal performance, with in-depth debates on facility design, automation, operations, equipment and technology from berth to gate.