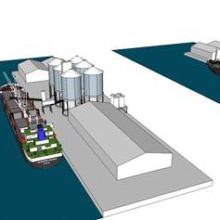 The investment by Newport Industries will allow the company, which specialises in importing dry bulk chemicals to the glass, adhesive, detergents, chemicals and feed industries, to meet increasing demand from its North West customer base.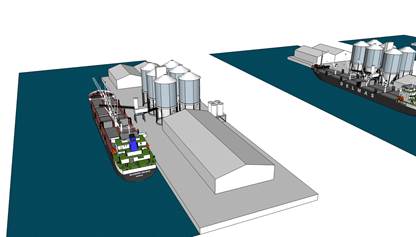 Newport Industries has been a customer at Peel Ports' Runcorn Docks site since 2009, during which the bulk volumes it handles there have grown by 200%. Adding a purpose-built facility with direct deep water access at Liverpool's Canada Branch Dock to the existing Runcorn operation is intended to create an all-water 'highway' into the manufacturing heartland of the UK via the Manchester Ship Canal – reducing costs and CO2 emissions.
When Peel Ports' £300m deep water container terminal Liverpool2 is completed later this year, it will open future opportunities to tap into far eastern markets, potentially facilitating direct calls for large container ships to and from China. Liverpool2 will enable the port to handle the largest container ships in the global fleet, while at the same time doubling its container capacity to 1milllion TEU.
Construction of the new bulk handling facility will be completed in several phases. The first phase, which includes the construction of a pneumatic ship discharger and two silos, is expected to be delivered by autumn 2016. The further construction of an additional four silos and a pallet warehouse will be completed by 2018.
Raj Patel, Managing Director of Newport Industries, said: "We are delighted to announce the development of Canada Dock, a state-of-the-art facility which will combine our technical expertise of the products we supply with a 24 hour supply chain for all our consumers in the North of England. The facility will have an initial capacity to supply over 500,000 tons by 2017, with an additional 300,000mts by 2020."
Newport Industries has also signed up to Peel Ports' carbon emission initiative, Cargo200, which aims to reduce UK freight mileage by 200 million miles over the next five years. Peel Ports aims to recruit up to 200 cargo owners, importers and exporters to support the campaign, by switching current delivery of ocean freight from south east ports to the centrally-located Port of Liverpool, if their goods start or end their journey in the north of the UK.
Andrew Martin, Group Land and Property Director at Peel Ports, said: "Looking at the geographical demands of the UK, 50% of the demand for cargo comes from the northern half of the country – which makes the Port of Liverpool strategically important as the most centrally located port in the UK.
"In reality though, only 8% of goods arrive in the UK through this route. That means the majority of cargo destined for the north currently has to be transported via road or rail, incurring hundreds of additional miles, burning fuel, creating road congestion and adding to carbon emissions and costs."