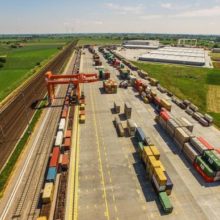 In addition to each of the three company's own existing services, a new direct train with capacity for up to 1,200 tonnes of cargo now runs in each direction between the DUSS terminal in Duisburg and Kutno four times a week, and twice a week with a stop in Poznan Franowo.
RBH, a subsidiary of DB Schenker Rail, is providing the traction for the trains on the German side, and DB Schenker Rail Polska is doing the same on the Polish side.
In both Duisburg and Kutno the closing times for acceptance have been made late and the pick-up times early in order to optimise operations. There are options for onward transport from Duisburg and Kutno to make use of the operators' national and international services.
Peter Dannewitz, Sales Manager at Kombiverkehr KG, said: "By bundling the current consignment volumes of all three operators into one joint train product customers in international forwarding will have more opportunities to send shipments by rail, which is both cost-efficient and climate-friendly."
Ziemowit Kierkowski, Sales Director of PCC Intermodal SA, added: "This joint product between Duisburg and Kutno finally allows us to offer the customers complete competitive and reliable connection, linking Ruhr Area with Southern Poland's industrial centres of Wrocław, Katowice and Rzeszów."