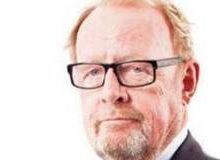 Mr Olsson was 70 and had served as a Director of the Company since 1993, and as Chairman of the Board since December 15th 2009, when he succeeded company founder Jacob Stolt-Nielsen.
CEO Niels G Stolt-Nielsen said: "For more than two decades, Christer provided constructive guidance and thoughtful insights to Board discussions, helping the Company to capitalise on opportunities as well as overcome challenges. Christer has been a trusted support to me since he first was elected to the Board. His presence will be greatly missed."
Mr Olsson also served as Vice Chairman of Wallenius Lines AB, and as a director of Wallenius Wilhelmsen Logistics AS, United European Car Carriers (UECC) and Atlantic Container Line AB. He received his Bachelor of Law degree from Stockholm University.
The Stolt-Nielsen Board of Directors will elect a new chairman at the company's AGM in April.