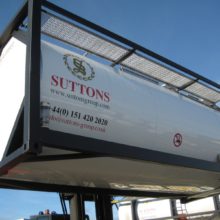 During the year ending April 30th 2015, Suttons acquired Imperial Tankers in the UK and I.S. Logistics in Singapore; both of strategic importance. The reported growth was predominantly the result of these acquisitions, which increased revenue by £26.9m, but 2% underlying like-for-like growth in turnover was also achieved.
Headline operating profit from continuing operations fell from a record £10.4m in the previous year to £8.3m. However, £1.5m of the shortfall was due to amortisation of goodwill on the acquisitions, leaving an underlying fall of 5%, reflecting challenging economic conditions in some key international markets.
The Imperial Tankers acquisition strengthened the bulk chemicals transport capability and, together with a new contract which started shortly afterwards, almost doubled the size of the UK tankers' operations. The addition of I.S. Logistics was pivotal in broadening the international logistics capabilities of the Group and adding downstream services such as transport, warehousing and drumming. The business is based in Singapore, a key hub for Suttons' Asian business, and will enable the Group to offer fully integrated propositions.
As well as the acquisitions, Suttons invested in the development of the business with capital expenditure totalling £9.7m. This included new operating and planning systems in the tankers and international divisions together with a major asset replacement programme of ISO tanks, trucks and road barrels.
Suttons Group CEO John Sutton said: "It's been a year of mixed fortunes for the Group. We have seen successes and progress in some areas and challenges in others. We are pleased that we have been able to complete some significant investments across the business which will enable us to continue to provide the highest service standards in the markets in which we operate and expand the range of those services that we can provide to our customers.
"For 2015/16 we expect substantial challenges for both our UK and international business, but thanks to the investments we have made and the teams we now have in place, we feel we are well placed to meet those challenges and continue to support our customers with the dedication and commitment they expect from us."