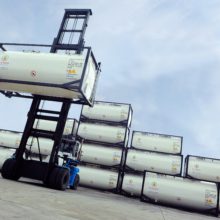 The 20ft additions to Suttons' more than 6,000 tank containers have gone into operation serving lanes between North America and Europe.
The investment is a departure from the bulk chemical and gas logistics and supply chain services for which Suttons is best known, but the company identifies a natural fit with the food and beverage sector.
Steve Lonsdale, Regional Director for Suttons Americas, explained: "Suttons is well known for its safety record and high standards of service, which makes the food and beverage sector a natural market for us. Our approach to safety, compliance, product quality and security are all essential attributes required for food and beverage transit and we are able to complement that ability with our knowledge and experience of intermodal bulk logistics and supply chain.
"Due to the increased capacity which tank containers offer in comparison with traditional transport methods, together with more flexibility in terms of production, packaging and storage, we have seen an increase in food grade products transported with tank containers. As a proven safe and sustainable transport method, tank containers can provide significant added value for our customers."
The new food tanks were created in partnership with Singamas of China, whose engineers worked with Suttons' in-house team to build the specialised tanks. They are fitted with the very latest GPS and telematics systems, which provide real time data to both Suttons and its customers.