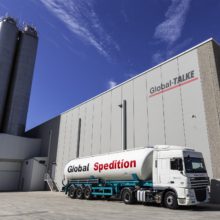 For UK-headquartered CPL Carbon Link, Global-Talke will immediately begin grinding activated carbon for transport to customers on the Iberian Peninsula.
Global Talke is a joint venture of Global Spedition, Spain, and German chemical logistics company Talke. In Tarragona, the company offers a range of logistics services for chemicals and food and animal feed additives. By extending its services with new warehouses and equipment, the firm says high-quality activated carbon will be ground, filled, stored and loaded in the southern Spanish port.
The basis for this new value-added service is a long-term contract with CPL Carbon Link, a specialist for activated carbon filters, with worldwide operations. Parallel to building up capacities for CPL Carbon Link, the logistics outfit has created further handling and storage capabilities. As a result the joint venture now offers over 20,000 pallet spaces and, having created 10 additional jobs, now provides employment to 40 people.