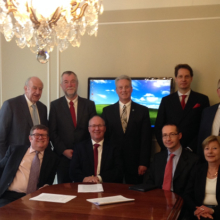 The registered trade association was officially formed on 1 February 2016 in Brussels by the European Association of Chemical Distributors Fecc, the US NACD, the German and British associations VCH and CBA, and a number of major chemical distributors. In addition to other companies, China's CCCMC, Brazil's Associquim, the Mexican and Canadian associations of chemical distributors and further European National Distributor Associations have also been invited.
Besides ensuring the international exchange of good practices, helping ICTA to expand in other countries and onto other continents, the task of the association will be to coordinate international activities taking place at a global level. Regulations that concern the handling, transport, management and security of chemicals are being discussed in a global context more and more – often on a United Nations (UN) level. In these cases, the ICTA will speak for the chemical distribution industry worldwide. The ICTA will also promote UN initiatives like Global Compact and encourage its members to participate.
The ICTA's legal seat will be Brussels. Birger Kuck, consultant for the chemical distribution industry, has been appointed as Interim Director General to coordinate the operational activities of the new organization. Administrative support will be provided by the Fecc's Brussels office.
From left to right : Edgar E Nordmann, shareholder and Managing Director of Nordmann, Rassmann; Dr Neville Prior, President of Fecc and owner of Cornelius Group plc; Peter Steinbach, Executive Board Member of VCH; Birger Kuck; Doug Brown, NACD Vice Chairman and President and CEO of Brown Chemical Co; Carsten Harms, Executive Board member of Biesterfeld AG; Gerhard Ahlbrecht; Peter Newport, Chief Executive Officer of CBA; Uta Jensen-Korte