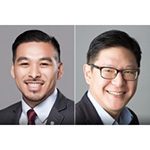 CH Robinson's major service lines in Asia include ocean, air, customs brokerage, project logistics, and warehousing and distribution.
Andy Wang, President of CH Robinson Asia, said: "Asia is an important market for CH Robinson, and China is a hub for our business in the region, which is a critical part of our global growth strategy. With proven expertise in logistics, I believe Jack and John will further strengthen our business in Asia, especially in China, and provide strong support to our customers through innovative supply chain solutions in this region.
"We believe the Asia region, especially China, is full of growth potential and opportunities. China and Asia still occupy an important strategic position in global trade, and the appointment of new executives further demonstrates the great importance we attach to business in this region. With our advantages in our global network, technology, and workforce, we are confident in promoting further development of the logistics industry in China, as well as in Asia."
Before serving as Vice President of Asia Global Forwarding, Jack Chang held several positions at CH Robinson, including Director of Operations of Asia and General Manager of Taiwan. Chang is an expert on import and export compliance, optimisation analysis, international finance, and supply chain management. John Chen joined CH Robinson as part of the acquisition of Phoenix International in 2012. Chen served as general manager of Phoenix International in Shenzhen and was named general manager of the CH Robinson Hong Kong office in 2013.
CH Robinson currently has approximately 1,500 employees and 40 offices in Asia, including 18 in China, with its operations covering 10 countries.