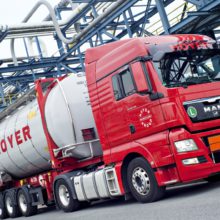 The new terminal is scheduled for completion in January 2017 and should enable storage capacity to be enlarged by 624 tank containers. Hoyer has already submitted the corresponding approval documents to the relevant Cologne district government and expects publication of the application pursuant to the German Federal Pollution Control Act in the near future.
The container terminal is needed for supply and disposal to/from the production operations in the chempark. Ulrich Grätz, Hoyer's director of supply chain solutions, said: "It goes without saying that the new terminal will meet the highest safety standards. Among other things it will have bunds and a fire alarm and extinguishing system."
The hazardous substance classes that are to be stored remain unchanged. The investment volume amounts to several million euros. Hoyer will create around five new jobs by expanding the terminal.