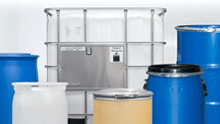 The innovation has been passed by UL, an international independent safety science organisation based in Illinois, for storage of some classes of combustible liquids in accordance with NFPA 30, Flammable and Combustible Liquids Code.
This certification will allow customers to store combustible liquids in storage areas in the more efficient IBC design, as opposed to the conventional 220l steel drum options of the past, when protected with fire sprinklers in accordance with the requirements and limitations referenced in NFPA 30.
Siegfried Weber, Senior Vice President, MAUSER Global Sales and Marketing, said: "Our customers expect innovation from MAUSER. By developing an IBC solution that performs to the UL global performance standards, we believe we have delivered. We believe that MAUSER's solution to accommodate flammable products' storage will be attractive to customers worldwide."
The MAUSER SM13 EX UL IBC design incorporates a variety of innovations. Most notable is the fire-resistant blanket design that not only encloses the entire IBC, but also the entire valve. The unit incorporates reinforced steel legs to provide maximum stability in the event of a fire and is also designed with anti-static resin as well as a grounding system to dissipate any charge the unit or product may have to allow the usage of this unit in explosive zones 1 and 2.
Klaus Peter Schmidt, Head of Global Product Development at MAUSER, stated: "It was quite a challenge to design an IBC that performs to UL standards. From identifying the ideal materials to engineering the structured pallet supports, it took tremendous teamwork to bring it all together. Customers value the technical expertise that MAUSER brings to the relationship, and we believe to underline that expertise with this successful new product."
The UL fire exposure test protocol was revised in 2014 and became effective in 2015, making the performance standards more challenging with enhanced relevancy to the end-use application. In order to pass the test, two units needed to retain their product with no leaks while surviving a 20 minutes heptane fire, stacked one upon the other. The two units must remain stacked after the 20 minutes without more than a 5-degree lean in any direction.
Dan Steppan, senior staff engineer with UL, said: "Supporting users of IBCs as well as authorities having jurisdiction who now have more flexibility to specify the use of an IBC that has demonstrated compliance with the latest UL safety requirements also supports UL's mission to create safer working and living environments worldwide. We are pleased to see manufacturers developing products that meet these stringent requirements."
The MAUSER SM13 EX UL IBC is currently undergoing customer trials and qualifications in North America and several European markets.