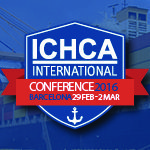 Olaf Merk, Administrator Ports and Shipping at the OECD's International Transport Forum (ITF), and Captain Sandeep Mehta, President, Adani Ports & SEZ, will contribute to a conference session looking in depth at the impact of bigger ships on ports and logistics operations.
Merk is the co-author of OECD's 100-page report on 'The Impact of Mega-Ships', published last May. The report assessed the cost savings from bigger ships, weighed them against the increase in transport costs and supply chain risks and called for public policies to take better account of these risks. While managing the OECD Port-Cities Programme, Merk also directed more than a dozen studies on port cities, including Hamburg, Hong Kong and Shanghai, and has written various port-related articles in academic and professional journals.
Speaking on 1 March in a morning session entitled 'Bigger Ships, Greater Challenges: Risks & Responses', Merk will update delegates on the industry-wide impact of bigger ships. He will be joined by Chris Welsh, Secretary General, Global Shippers Forum, Santiago Garcia Mila, President, International Association of Ports & Harbours and Günther Bonz, President, Federation of European Private Port Operators.
On the same day, Captain Sandeep Mehta will be the first speaker in an afternoon session on 'Rising to new Demands in Port Operations & Landside Logistics: Comparing International Experiences'. Captain Mehta has over 22 years' experience in the industry and has held various positions at P&O Nedlloyd, Maersk Line and APM Terminals Mumbai.
Adani Ports & SEZ is India's largest private multi-port operator. It is part of the Adani Group, an integrated infrastructure corporation, and operates a number of ports in India, including Mundra port – India's largest private commercial port. The company is investing heavily in building the country's infrastructure, including plans announced this January to develop Mundra into a transhipment hub for the Middle East, South Asia and India, with annual capacity of 3.1 million TEU.
Captain Mehta will be speaking about current and future demands for ports and logistics operations in India to meet new economic and trade needs, as well as accommodate larger vessels. He will be followed by speakers from Japan, Ivory Coast, Morocco, Ghana and Australia in a session that will provide a unique opportunity for debate between representatives of fast-growing economies and some of the world's longest-established container markets.
David Bendall, Chairman, ICHCA International, said: "We are very happy to have confirmed Olaf Merk and Captain Sandeep Mehta as speakers. They will add depth and an extra international perspective to an already outstanding line-up of senior speakers. We are looking forward to intense and productive debate around the key issues the industry is facing."