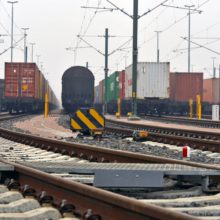 With volume up 3.1 percent at 45.8 million tons, rail achieved its best-ever result, taking 45.3 percent of the port's modal split and overtaking trucking, with a 42.4 percent share, for the first time – a unique feat in Europe.
Jens Meier, Chairman of Hamburg Port Authority's Executive Board, said of the figures: "Good work pays off. With the optimisation of our processes we have succeeded in positioning rail as the most important mode of transport, ahead of trucking. That is an outstanding performance in the European context. The figures show just how much potential resides in the intelligent expansion of infrastructure."
Container traffic by rail also set a fresh record in 2015, increasing by 2.8 percent to 2.3 million TEU. More than 200 freight trains reach or leave the Port of Hamburg every day, with 1,100 container trains per week.
Initial transport data indicated that in 2015 inland waterway craft achieved a 27.5 percent advance, transporting 130,000 TEU. In total, in 2015 total cargo volume transported by inland water ships was 13.6 percent ahead at 12.4 million tons, making Hamburg second largest inland waterway port.
Downturn in seaborne container throughput is primarily attributable to lower volumes handled with China, Russia and Poland. In total, in 2015 something over 800,000 containers (TEU) fewer than in the previous year were handled for these especially important trading partners in container traffic with the Port of Hamburg.