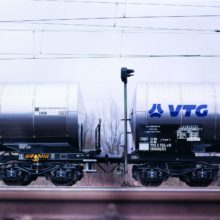 "VTG opened a completely new chapter in 2015", said CEO Dr Heiko Fischer. "We expanded our wagon fleet, successfully developed our business in all divisions and realised the first synergies by way of simplified processes and structures. The substantial headway made in integrating AAE played a considerable role in this progress."
Revenue in the railcar division rose 55.5 percent from to €537.2 million. EBITDA also rose significantly, 72.5 percent to €335.4 million. At 90.6 percent, fleet utilisation was slightly below the level of the previous year (91 percent), but above the level of the previous quarter (89.6 percent).
The tank container logistics division recorded a considerable upward trend. This was primarily attributable to the rise in the US dollar exchange rate and growth in overseas transport volumes, in addition to one-time earnings. Revenue consequently rose by 10.2 percent to €166.3 million, and EBITDA improved by 6.5 percent to €13.6 million.