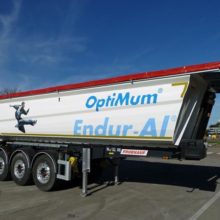 The trailers are being made with Alcoa's Endur-Al aluminium alloy to give greater strength and durability while reducing the weight. Endur-Al, which is 52% stronger than standard 5083 H111 aluminum alloy and 20-30% lighter than steel, will be used for the floor and sides of the large volume AgroMax for grain transports as well as OptiMum and OptiMax for public works.
Endur-Al was originally developed by Alcoa to withstand extreme environmental conditions. The metal for this application is made at Alcoa's Fusina plant in Italy. Its performance characteristics include extreme surface strength, high resistance to abrasion and corrosion, and superior workability, which have been proven under extensive testing to be uniquely suited for the construction of tipper trailer sides and floors. "We chose Endur-Al because it is the strongest and most abrasion resistant aluminium solution on the market," said Gérard Buard, Commercial Director of Fruehauf.
Fruehauf will build around 150 Endur-Al trailers in 2016 and should increase sales to reach 500 units per year in the three following years.
Bernd Schäfer, Alcoa Global Rolled Products Vice President Commercial, Global Commercial Transportation and Industrial, said: "Aluminium tipper trailer designs weigh between 20% and 30% less than steel bodies of equivalent strength, stiffness and durability. This reduction in weight not only increases payloads by about one ton for the average trailer, but also improves fuel efficiency when the vehicles are not fully loaded. For the operator, this means significantly more revenue for each delivery as well as fuel cost savings."