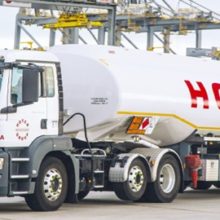 Leading bulk logistics specialists HOYER has taken over delivery to more than 200 additional service stations in Germany as part of a new contract with TOTAL.
The new contract for the north-west of the country includes fuel scheduling and stock management, and builds on the Hamburg company's services for TOTAL in Bremen, the Ruhr district and Emsland region, where it has been delivering since February.
TOTAL operates Germany's third biggest service station network, with nearly 1,200 stations. HOYER is investing more than three million euros in its own truck equipment in the context of TOTAL's logistics tender.
Stefan Küfner, Central Logistics Director for TOTAL Deutschland GmbH, said: "We are very satisfied with the smooth takeover of the supply by HOYER, and expect to achieve a further increase in our safety standard in the logistics chain."
Volker Schmitz, Managing Director of the HOYER Mineralöl-Logistik GmbH, stated: "The collaboration strengthens our market position as a service station supplier and partner for the petroleum industry, and also creates 45 new jobs."