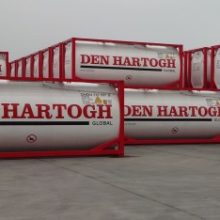 The scheme is expected to become effective today, 9 March 2016, once the court order has been delivered to the Registrar of Companies.
The last day of dealings in and registration of transfers of InterBulk shares was 4 March 2016, and trading in InterBulk Shares on AIM was suspended with effect from 7.30am (London time) on Monday, 7 March 2016. InterBulk intends to apply to the London Stock Exchange for the cancellation of admission to trading of InterBulk Shares on AIM, which is expected to take effect at 7am (London time) on 10 March 2016.
InterBulk Group was one of the early pioneers of intermodal logistics and is now a leading provider to the chemical, polymer, food and mineral industries, employing almost 500 employees in 21 InterBulk offices around the world together with InterBulk's local partners/agencies and state-of-the-art equipment, including 20,000 containers.
The Boards of Den Hartogh Holding and InterBulk Group announced an agreement on the intended acquisition by Den Hartogh of the entire issued share capital of InterBulk in December 2015. Den Hartogh and InterBulk have complementary strengths and geographical footprint and, after completion, will together form a global top 3 logistics provider for the chemical industry.