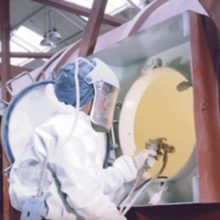 The agreement was signed at the opening of the Chemspec India 2016 event in Mumbai.
Based in Avon, Ohio, in the US, APC is a corrosion prevention company, producing high-performance ChemLine-brand coatings to protect industrial structures and transport equipment and tanks around the world.
Amfico Agencies is part of the KB Cooper Group of Companies, specialising in handling chemicals and liquid cargoes in bulk vessels, tank containers, IBCs, and other types of specialised containers, as well as allied services. The company represents international firms to provide entry into India's industrial markets.
Amfico is headquartered in Mumbai and is well networked in India, either directly or through agents in Kandla, Mundra, Pipavav, Delhi, Goa, Chennai, Vizag, Kochi, and Kolkata, as well as other parts of the Indian sub-continent, the UAE and Saudi Arabia. The company celebrated its 50th anniversary last year.