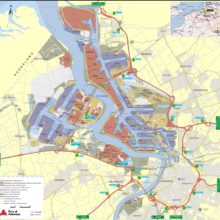 The previous RfP for the site at the beginning of 2015 yielded no concrete result despite having been extended for an additional period, the port authority said. So the entire site remains available for industrial projects that would create added value and employment. The Port Authority board of directors have decided to issue a new RfP aimed specifically at 'circular economy' projects.
A similar RfP was also issued on 12 April for the Delwaide Development Zone which has become available as a result of the MSC shipping company moving its operations to a different part of the port.
MSC notified the port authority at the end of 2013 of its desire to move its freight handling from the Delwaide dock on the right bank of the Scheldt to the Deurganck dock on the left bank. The Port Authority decided to accede to the MSC request in mid-2014, and a few weeks later an RfP was issued for the 'Delwaide Dock South & North-East' zone. Antwerp received 10 or so project proposals for the zone at the beginning of 2015. In view of the potential value of a waste-to-chemicals project submitted by Energy Recovery Systems (ERS) the port authority decided to negotiate further with ERS with a view to signing a concession agreement. During the negotiations various alternative locations for the project were also discussed.
Now, the port is looking to encourage an equally valuable project in the Churchill Industrial Zone. The site is particularly valuable as it is one of the few large areas still available which is centrally located in the Antwerp industrial cluster.