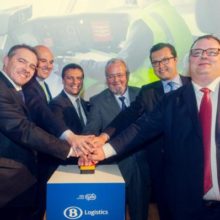 The new Czech Xpress is the seventh link of the network, and has been developed in response to demand from customers in the steel and chemical sectors and the intermodal market, as part of B Logistics' ongoing drive to bring greater volumes to rail.
Steps have been taken to ensure the maximum reliability of the service, the trains run according to a fixed schedule, and products are being monitored by a dedicated Xpress team who keep customers up to date in real time.
From now, the Czech Xpress links Antwerp North and Kinkempois (departure on Tuesday and Thursday) twice a week with Usti nad Labem (departure on Wednesday and Friday). The frequency will be increased in this quarter to three round-trips per week. The train takes 24 hours to go from marshalling yard to marshalling yard. B Logistics and CD Cargo are partners regarding production.
Initially, the Czech Xpress will transport mostly conventional loads. Port of Antwerp selected this new connection in response to a Request for Proposals (RfP) to expand the rail offer between Belgium and Central and Eastern Europe. This means that the Czech Xpress can count on support from the port to open the link up further for intermodal loads in this quarter, and to increase the frequency to five round-trips per week as soon as possible.
Sam Bruynseels, Chief Commercial Officer at B Logistics, said: "The Green Xpress Network, which we launched at the beginning of last year with the Swiss Xpress, is now starting to take shape as a streamlined and stable European network of quality connections, with Belgium as a nodal point. The products meet the demands of customers to the full: short transit times, reliability and transparency. Our Xpress trains actually drive with an average punctuality of 95 percent, which is unrivalled in the market. This is one of the reasons why we managed to generate profitable growth for the first time in 2015. I am convinced that we can consolidate that growth with this sustainable, first-rate solutions at market prices, and appeal to new customers who do not use rail at this time."
Geert Pauwels, CEO of B Logistics, added: "Now that the future of B Logistics has been secured, we have set an ambitious goal: modal shift to rail. We want to provide a thorough and sustainable alternative to road transport because we think it is important to make a contribution on the environment and mobility front. And we can do that by bringing more volumes to rail. So we continue to set the standards for rail freight. B Logistics wants to make the choice for rail self-evident for industrial and logistics companies by offering rail products which are better than other transport solutions in terms of completeness, quality, run time, ease and cost."