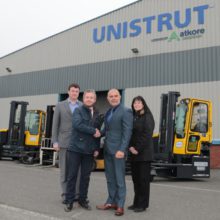 At the core of the new materials handling fleet are eight Yale MR14 reach trucks. These have the capacity to lift to heights of up to 12.5m and a touch screen display that gives operators full control at all times. Also included in the Unistrut deal are Combilift four-way articulated trucks, which are designed for space saving and productive handling of long and bulky loads, along with Yale counterbalance machines and a Nilfisk industrial cleaner.
All the new machines have been acquired on a five-year contract hire basis and Briggs Equipment will provide full service and maintenance support across the fleet. Used primarily to unload and move steel coils throughout the production facility, the equipment will be deployed at Unistrut's headquarters in West Bromwich in the West Midlands.
Jason Burley, Purchasing Manager at Unistrut, which is part of Atkore International, said: "As a growing company we need a strong materials handing partner and we look forward to working with Briggs to achieve our goals."
Unistrut has been particularly impressed with BE Portal, Briggs Equipment's interactive web-based asset management tool, which is designed to facilitate proactive fleet management. BE Portal provides total transparency and allows end users to monitor performance, servicing and uptime of the entire fleet or even an individual truck. Using a tablet, laptop, smart phone or PC it is also possible to submit truck hour meter readings, log a breakdown and track a job in seconds.
Briggs Equipment's Key Account Manager Mike Oseland said: "We are delighted to be awarded this important contract and, using the sound data available through BE Portal, we will be aiming to help Unistrut simplify fleet management and reduce its operating costs."