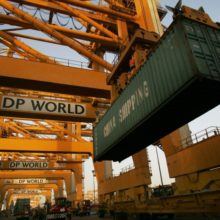 DP World Chairman, Sultan Ahmed Bin Sulayem, made the following statement regarding operational performance so far in 2016 at yesterday's company AGM for the year ended 31 December 2015:
"DP World Limited handled 15.5 million TEU (twenty-foot equivalent units) across its global portfolio of container terminals during the first quarter of 2016, with gross container volumes growing by 3.7 percent on a reported basis, and up 2.4 percent on a like-for-like basis [which excludes volumes at Yarimca (Turkey), Stuttgart (Germany), Rotterdam (Netherlands) and Prince Rupert (Canada)].
"First quarter growth was largely driven by a stronger performance from our European and Indian subcontinent terminals. Conditions in Latin America remain challenging while the UAE handled 3.6 million TEU, down 5.9 percent year-on-year due to loss of lower-margin cargo.
"At a consolidated level [where DP World has control as defined under IFRS], our terminals handled 7.2 million TEU during the first quarter of 2016, a 2.3 percent improvement in performance on a reported basis and down 0.4 percent year-on-year on a like-for-like basis [excluding Yarimca, Stuttgart and Prince Rupert].
"Despite the challenging operating environment, we are pleased to see that our portfolio continues to deliver ahead of market volume growth.
"Our new developments in Rotterdam (Netherlands), Nhava Sheva (India) and Yarimca (Turkey) are now operational and are expected to deliver an increasing contribution in the second half of 2016. The additional 2 million TEU of capacity at Jebel Ali (UAE) and 1 million TEU of capacity in London Gateway (UK) are on course to be delivered in mid-2016, which will offer further room for growth.
"Overall, we remain well positioned to grow volumes ahead of the market, while we continue to focus on driving profitability by targeting higher margin cargo, improving efficiencies and managing costs. Our encouraging start to the year gives us confidence in meeting full year market expectations."
DP World now boasts a portfolio of 77 operating marine and inland terminals supported by over 50 related businesses in 40 countries across six continents, with a significant presence in both high-growth and mature markets.
Container handling is the company's core business and generates more than three-quarters of its revenue. In 2015, DP World handled 61.7 million TEU (twenty-foot equivalent units) across its portfolio. With its committed pipeline of developments and expansions, the current gross capacity of 79.6 million TEU is expected to rise to more than 100 million TEU by 2020, in line with market demand.