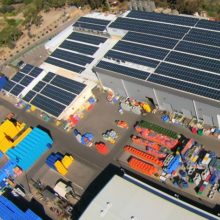 Capitalising on Israel's abundant sunshine, the set-up will generate 10 percent of the electricity required for the site's operations. The 0.3kW panels, which took three months to install on 4,000 square metres of roof space, are expected to pay back Dolav's $900,000 investment in seven years.
Switching on solar power for the Dolav factory, CEO Nisim Emesh said: "At Dolav we are pleased to power part of our production with clean, solar-powered electricity. It is economical, ethical and socially responsible renewable energy. We hope Dolav customers will like us making the best use of renewable solar energy as we manufacture their hygienic Dolav plastic pallet boxes from virgin HDPE."
Dolav has been making heavy-duty plastic pallets and box pallets at its site in southern Israel since 1976 and selling them globally for 40 years. Customers use Dolav hygienic plastic box pallets widely in the food and fish processing sectors and to handle by-product or waste for recycling. Employed throughout many commercial sectors around the world, Dolav box pallet products are so widely used the word 'dolav' is now the generic word for box pallets made of plastic, wood or metal.