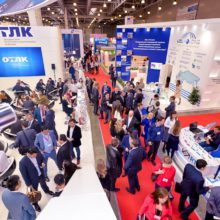 Despite significantly lower foreign trade last year, especially, and against a background of continuing trade sanctions and a tight economic situation in Russia, companies used the Port of Hamburg joint venture stand organised by Port of Hamburg Marketing (HHM) and showcasing the Port of Hamburg's vast range of logistics services to cultivate existing contacts on the Russian market and to forge new ones. Co-exhibitors were Hamburger Hafen und Logistik AG, Samskip and Lübecker Hafen-Gesellschaft.
Ingo Egloff, CEO of Port of Hamburg Marketing, said: "For the Port of Hamburg and many of our member companies, Russia is one of their most important trading partners. For Russia and the entire Baltic region, the Port of Hamburg performs the especially vital hub function as a high-performance port for seaborne foreign trade. In combination with its Baltic feeder services with Russian ports, Hamburg offers superb shipping opportunities on a dense network of liner services to all regions of the world. The momentary downturn in exports to Russia primarily attributable to the economic situation there is also leading to lower transhipment throughput in Hamburg.
"Nevertheless, we are assuming that with the onset of a fresh economic upswing, excellent development prospects will open up for Hamburg and Russia's Baltic ports."
For Marina Basso Michael, Port of Hamburg Marketing's Head of Market Development in the Baltic Region and Eastern Europe, and Natalia Kapkajewa, Head of HHM's Representative Office in St. Petersburg, in difficult times the ongoing cultivation of contacts with Russian partners and introduction of new business contacts with companies from the Hamburg Metropolitan Region is of special importance. Trade fair participation in combination with expert discussions on cooperation in the Baltic region, and the exchange of know-how between ports and companies, was also the occasion for arranging a programme for a delegation of high-ranking representatives from Hamburg and the Metropolitan Region.
The delegation travelled to Moscow at the invitation of Port of Hamburg Marketing and the Free and Hanseatic City's Ministry of Economics, Transport and Innovation, and comprised Under-Secretary Dr Rolf Bösinger from the Ministry, Tino Klemm of Hamburg Port Authority's management board, Dr Rolf Strittmatter, Chief Executive Officer of the Hamburg Business Development Corporation (HWF), Dr Sebastian Jürgens, Managing Director of Lübecker Hafen-Gesellschaft, Jörg Ullrich, Managing Director of European Cargo Logistics, and Kolja Harders, Head of the Foreign Trade Department of the Hamburg Ministry of Economics, Transport and Innovation.
One reflection of the excellent relations between Hamburg and Russia were the discussions held during TransRussia between Under-Secretary Dr Rolf Bösinger, Ingo Egloff, and Maksim Sokolov, Russian Minister of Transport. This was underlined by the joint tour of the fair involving numerous visits to the stands of such leading Russian companies as RZD (Russian Railways), the new Russian Baltic Port of Bronka, Rosmorport, and one of Russia's largest transport firms, the United Transport Logistics Company.