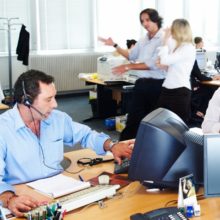 CH Robinson is one of the leading road transportation and freight forwarders in Europe, with a network of 43 affiliate offices across the continent, and the move is intended to inject fresh talent and innovation into its operations.
The new location, at Teleportboulevard 120, follows an initial HQ shift to Amsterdam from Antwerp in 2010 and the subsequent ongoing expansion of the company's corporate operational teams.
Jeroen Eijsink, President of Europe for CH Robinson, said: "One of the largest obstacles preventing innovation in our industry is a talent shortage, so we have deliberately chosen to relocate into a new up and coming area of Amsterdam, where we are surrounded by young talent from surrounding schools, and start-up companies."
The relocation does more than allow CH Robinson to take advantage of Amsterdam's strong international talent pool. The new office space is also custom designed to reflect the look and feel of a start-up company to strategically attract new talent. The largest part of the company's European growth has taken place over the past four years as the company solidified its strategy and accelerated its development.