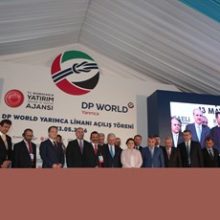 As one of the biggest in the country, the new terminal can handle up to 1.3 million containers covering 460,000 square metres, enhancing Turkey's connectivity with Europe and Asia and enabling trade from the heartland of its most industrialised region, Izmit Bay.
DP World Yarimca is the first infrastructure project in Izmit Bay to be run by an international operator, and the first in the country to use remote controlled gantry cranes with automated gate operations featuring a vehicle appointment system for more rapid processing. It also has fast scanner x-ray machines, the first of their kind in Turkey, with the ability to scan 120 containers every hour.
It has two main berths of 465 metres and 430 metres in length, which can accommodate two vessels at the same time. Six ship-to-shore gantry cranes have been installed, together with 18 electrical RTGs (rubber tyre gantry cranes) used for container stacking and weighing.
The port was announced open by the President of the Republic of Turkey, Recep Tayyip Erdoğan, who attended the site by teleconference and stated: "DP World Yarımca will reduce costs and increase competitiveness of industrial and trading companies located in our region." He was joined by ministers and senior government officials of Turkey, along with DP World Group Chairman and CEO, Sultan Ahmed Bin Sulayem, who said: "The UAE and Dubai firmly believe in the future of Turkey as a natural bridge between both East-West and North-South axes, creating an efficient and cost-effective outlet to major markets and providing business easy access to 1.5 billion customers in Europe, Eurasia, the Middle East and North Africa.
"Our investment is not just in machinery and equipment – it's about our people, our most important asset. DP World Yarimca currently employs 300 people and we aim to reach 650 jobs when at full capacity. There are over 800 jobs identified indirectly in the local economy and many more local and regional supplier opportunities. This illustrates the ripple effect of projects of this magnitude – that boost economies and prosperity for the long term."
DP World Yarımca CEO, Nichola Silveira, said that she was proud to be leading the industry in a traditionally male dominated industry, which highlighted the equal opportunities available to everyone to take part in senior management and technical positions.