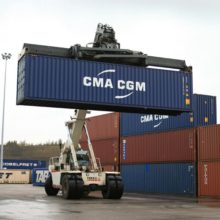 The proposed transaction was notified to the European Commission on 8 March this year and has now been cleared following a Phase 1 review, under the condition of NOL's exit from the G6 shipping alliance, which has been already committed by NOL and CMA CGM.
CMA CGM and NOL will continue to cooperate with the remaining authorities to close their reviews as quickly as possible. The proposed voluntary general cash offer for NOL (Offer) will be launched when all the pre-conditions to the Offer as announced on 7 December 2015 have been satisfied or (where applicable) waived.
Marseille-based CMA CGM has a presence in 160 countries, through its 655 agencies network, and employs 22,000 people worldwide. Its 470 vessels call at more than 400 ports on all five continents, and in 2015 carried 13 million TEUs.
Headquartered in Singapore, NOL is the largest shipping company listed on the Singapore Exchange. Its container shipping arm, APL, provides world-class container shipping and terminal services, as well as intermodal operations supported by leading-edge IT and e-commerce. APL offers transcontinental cargo shipping across Asia, North and South America, Europe, the Middle East, the Indian subcontinent and Australia through more than 80 weekly services at 160 ports worldwide.