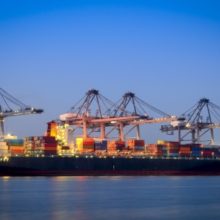 'One Month to Go – Are You Ready?' will be held in Antwerp on 1 June, hosted by port training institute OCHA, to discuss preparations around the three main themes of compliance, communication and contingency planning.
With much confusion still surrounding how VGM will be regulated, the first session of the day will be dedicated to compliance. Matthew Gore, Partner at global law firm Holman Fenwick Willan (HFW), an ICHCA member, will be among the panellists. He said. "It is expected that many Competent Authorities will be publishing their requirements shortly for implementation and enforcement in their jurisdictions, leaving very little time for the industry to act on these and be ready for 1 July. It is clear that different approaches and timetables are being followed in different jurisdictions. This has been clearly reflected when we canvassed some of our other offices which have also been actively working in this area with clients such as terminals, carriers, forwarders, shippers and others in the container supply chain to ensure readiness for 1 July."
During the seminar, Gore and other legal experts including Jos van der Meché of Dutch law firm AKD, will explore the different approaches to implementation being taken by national authorities across Europe and elsewhere, and discuss the compliance implications for various supply chain members and sectors, including European short sea shipping operations.
Another thorny issue on the table will be the approval and regulation of the equipment actually used for container weighing around the world, which appears to fall under national trade regimes related to weights and measures that are completely separate to the regulation of SOLAS itself.
Ian Dunmill, Assistant Director for OIML, the International Organisation for Legal Metrology, will also speak at the Antwerp seminar. OIML, an observer to WTO's Technical Barriers to Trade (TBT) Committee, produces International Recommendations that are intended as model technical legislation for regulated weighing and measuring instruments, with the aim of creating a worldwide level playing field. Dunmill said: "While the physical problem of a lack of suitable weighing equipment will no doubt be an issue at the beginning, my main concern is the lack of a harmonised approach to the regulation of [container] weighing instruments. In the interests of international harmonisation and avoidance of barriers to trade, there should be a common basis for legislation regulating container weighing instruments and that basis should be accepted internationally."
OIML believes that its Model Recommendations fit this requirement and "should be considered as a fair means of achieving the objectives desired by the SOLAS requirements and the IMO". The topic is certain to stimulate debate, as many providers and adopters of container weighing technology have already highlighted the huge complexity of securing the necessary approvals across multiple countries.
Large and often complex supply chains operating under new VGM legislation will require communication between all parties. In the second session of the day, acquiring VGM data and getting it communicated in a timely manner along the supply chain will be the focus of discussion.
Representatives from a wide array of VGM technology providers, including Avery Weigh-Tronix, Bromma Conquip, Conductix-Wampfler, Hirschmann, Intercomp and Strainstall, will come together to discuss the various weighing options now available, look at the different approaches now being adopted, and explore the issues of ensuring timely data flow and submission.
On the third panel of the day discussion will turn to contingency planning. The panel, including Chris Welsh CBE, Secretary General of the Global Shippers Forum, Steve Alaerts, Sales & Marketing Director for specialist reefer forwarder foodcareplus and Andrew Yarwood, Claims Executive of TT Club, will discuss how to put contingency plans in place to counter the inevitable problems that will arise in the early days after 1 July. The panel will also consider longer term strategies for what to do when things go wrong with the VGM process, especially for more sensitive cargo such as perishables and dangerous goods,
The day will finish with a look at the related issues of safe container packing and securing, and discussion of industry training needs with James Douglas, Director of online training specialist Exis Technologies. This month, Exis will launch a new VGM training module to complement its existing CTU Packing e-learning course, developed with the TT Club.
Captain Richard Brough OBE, ICHCA's Technical Advisor and Delegate to IMO, who will moderate and speak at the seminar, said: "With one month to go, it is vital that we get round the table and discuss how we can meet SOLAS VGM requirements with minimum disruption. Antwerp is a major European container logistics hub, and a perfect location to host an open discussion with input across the supply chain. This will help us develop compliance, communication and contingency methods that work for everyone, everywhere."