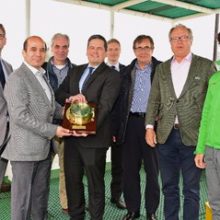 The state shipping company's service will call monthly at Hamburg as the only port in Germany, transporting conventional general cargo in addition to containers. The multi-purpose vessels deployed are equipped with shipboard cranes. Apart from Iranian ports, the new service linking ports on the Persian Gulf with others in Northern Europe will call at additional ports in the Middle East when required.
With the resumption of international trade activities with Iran, following sanctions imposed since 2010 that included a ban on calls by the Iranian state shipping company's vessels in European ports, people at C. Steinweg are expecting an initially gradual, later substantial increase in seaborne cargo throughput with Iran and are looking forward to the return of IRISL's conventional liner service on the Elbe.
Germany is traditionally Iran's largest Western trading partner. Before sanctions, Iran's imports via Hamburg were mainly of grain, potash fertilisers, feedstuffs and machinery. Exports arriving in the Port of Hamburg from Iran were mainly fresh and tinned fruit, cotton and other threads, rubber and vegetables. C. Steinweg's Süd-West Terminal, which possesses special equipment for handling especially bulky and heavy cargoes, will be loading machinery and plant for the Iranian oil, gas and mining sectors on the new conventional liner service.